Currently looking for a new theme. :)
ie shopping incessantly
). :)

Image from Corbis
I own a total of three (3) cards - 2 Citibanks and 1 HSBC. It used to be only 1 Citi and 1 HSBC but since they came up with the Cashback card, I had to get one of those. Because each one has its own purpose, I had to keep all of them.
(
Rebates & Promos
Collapse
)
A while back, I listened to Dave Ramsey, a financial radio talk show host in the US. He's got some sound steps on how to reach financial freedom, and one of which is to cut off one's dependency on a credit card. Unfortunately, that's one thing that I can't let go - my cards. But not for the reasons that you may think (
I'm feeling...:

groggy
Photo taken in Pangasinan
It's the
23rd
24th of February already and, setting aside V-day (
Max surprised me with 2 dozen roses delivered to the office :P
), I hardly felt each day that passed. It's just a big busy blur - kickoff, events, reports and papers, etc. And that's the reason why I was thinking of that calm period after this "stormy" time.
You see, here I am, getting home from work at 11pm - and I'll be going on vacation from tomorrow til Sunday. I really hope that the saying goes the other way, too. Four days of calmness? I really hope I'll get it. Or make that three, since I'm bringing the laptop and am planning to finish some things. Still, a break's a break...
Does it work that way? We've all heard the saying about the calmness of the sea before a huge storm, but does it go the other way too - that before a certain time of calmness, there's a storm? Sunshine after the rain? :D
Before anything else, let me just say that I got the idea of the subject line from the Facebook page of Barre3, an exercise studio located in various The Spa branches. One of the teachers of the class, said that this 2011, she would like to set intentions rather than resolutions.
Now, I looked up both words in online dictionaries (
Dictionary.com
and
Merriam-Websiter.com
) but I can't fully grasp the difference of the two.
Intention
is a determination to act in a certain way and
resolution
is a resolve or determination. Then again, one of the definitions of the latter is "something that is resolved" which to me is something that is fixed. With that, I've decided that, as mentioned in the subject line, for 2011, I will make intentions rather than resolutions. So here goes...
I intend to...
continue running, completing a few more 10Ks and leveling up to a 15 or 16k (a new category. In addition to this, I also intend to continue going to the gym and possibly adding another activity in the mix – barre3.

Image from: Corbis
(
1 down + 10 more under the cut = 11!
Collapse
)
Intentions rather than Resolutions
I'm feeling...:

chipper
This post will feature the highlights and events that happened each month (this will replace what I usually do before, posting the first line of the first post every month for the whole year) and a brief description. I do this to remind myself of the things I am thankful for the past year, and to motivate myself to make 2011 much more awesome :) Here goes...
January

Manz and Mic got engaged! With the tropa as witnesses :)



My grade school ka-barkada got married, with us as her bridesmaids
(
February to December under the cut!
Collapse
)
Hmm. It was quite a year, I just realized it now that I was looking at the pictures.
So with the first day of the new decade coming to a close, I think that this year will be legendary (I can't bring myself to say legen-wait for it-dary, haha :P). And if how the tropa started it this morning is an indication, I think I'm right :D
In any case, the first quarter is looking good -

Image from Ivan Henares
And of course, Manman and Mic's wedding! Can't wait! :)
As I said last night, the 2010 roundup in pictures will be posted today. I wanted to do it last night but since I had to leave early (spent NYE at my friend's place) to avoid all those firecrackers, I had no choice but to leave it to today.
I'm feeling...:

happy

Image taken from the homepage of Google
Honestly, with all the things that happened, I don't know how to classify this year but one thing I'm sure of is that I'm thankful for it. But then again, shouldn't we all be thankful? :)
A lot of firsts, and a lot of great things happened in the past 12 months but there's this feeling that something big (good or bad) is about to happen. I wonder what it could be? Or maybe I'm just looking for a big shake-up. :D
In any case, like what I said, I'm still thankful for this year, especially for this month - I finally ran my first 10k, my group bagged first place again in our company Christmas party contest (in the words of my boss - we're a bunch of
really
competitive kids), I was allowed a semi-long break from work (close to 2 weeks), and I was able to spend more time with my family (!) and friends.
More than the things I just mentioned above, I'm thankful to the people (you know who you are) who made this year the way it is - unforgettable. :D
So here's to the year 2010 and to a fantabulous 2011 :) Cheers!

Image from Corbis
PS. I declare 2011 as the year of healthy living. 2010 is the start and 2011 is, well, the continuation, maintenance and commitment to it. And to add - 2011 - more runs, more travel, more friends, more memories. :D
(My 2010 roundup in pictures won't make it before 12mn. Tomorrow nalang :P)
And so we're down to the last few hours of 2010.
After participating in 10 runs (since March this year) in which I always joined the 5k distance, I decided to step it up a bit and, thus, signed up for the 10k route. Thankfully, even with minimal training, I was able to finish it within an acceptable time.

With Kristian, one of my friends in GG
Though there were a lot of disappointed runners, I was happy with the run. There were a lot of water stations and the drinks were always cold at each station. The run started on time and it wasn't crowded at all (yes I'm traumatized by the Milo and Pasig run). But the one I'm happiest about are the results, which I got through text a few hours after the run -

My goal was 1hr 30min - so yay me for finishing it a few minutes before that :D
Anyway, I hope I'll be able to continue running next year - I've already signed up in the Greentennial Run (Jan) and planning to sign up as well for the Condura run (Feb). I'm also thinking of joining a running group in Fort so I could train with them for longer runs. :D
(I know this is my first post after a long time - again! - but there'll be a couple more posts before the year ends. Promise!)
It's December and I decided that I wanted to have one last run - for the month, and for the year. The last run I joined was the Run United (Unilab 2) last November 21 but I didn't care that it was only 2 weeks ago. A week after the Unilab Run, I was in Fort and sort-of spontaneously decided to join the ING 20 run. It was also the only run with no conflict in my schedule :)
It's been two months since my last entry and things have taken my attention away from you, one of which is, obviously, the ongoing UAAP season. Though it's a bit late, I think I'll take this time to write about what I've been up to during the past few months - and that is getting into a "healthy living" mode. :P

Photo from Corbis
Three things.
1)
I quit smoking

Photo credit: http://www.sweetiesswag.com/2009/05/i-quit-smoking-lapel-pin.html
Quite a feat since I've been a smoker for...(
mentally counting
)8 years. I can still the remember the time and the place where I had my first stick. And the situation which propelled me into getting that first puff. :P It's funny, now that I think about it. Haha :D
(
Quitting is easy. :D Plus #2 and #3 below the cut!
Collapse
)
So, I guess that sums up my healthy living post. I really don't know what triggered it - all I know is, I'm getting older and I wanted to stay healthy. :D I hope I can maintain it. *crosses fingers*
Well, hello there, LJ. I've missed you. :)
I'm feeling...:

thoughtful
Parts One
and
Two
. This one's a bit long but I don't want to have a Part 4 anymore so here goes. :)
4.
ATV ride
Now this is something I'm really proud of (along with the next item). Of all the people I know who've gone to Bicol in the recent months, I've only heard them yapping about going to CWC and, of course, seeing Mayon. But not once have I heard anyone say, "
Heyy, you should try the ATV ride!
" Haha :D
I know we tried ATV in Bora (
see this post
), but
that
doesn't hold anything to
this
. Really. We met up with the ATV operator at the foot of Ligñon Hill and we followed them to where the ATVs are (don't ask me where exactly, because at that point in time, I've become so disoriented of where we are, haha :P). Unlike the ones in Bora, each ATV was to be shared by a pair. Since there were ten of us, my friend's mom reserved 5 ATVs.

Open field where we practiced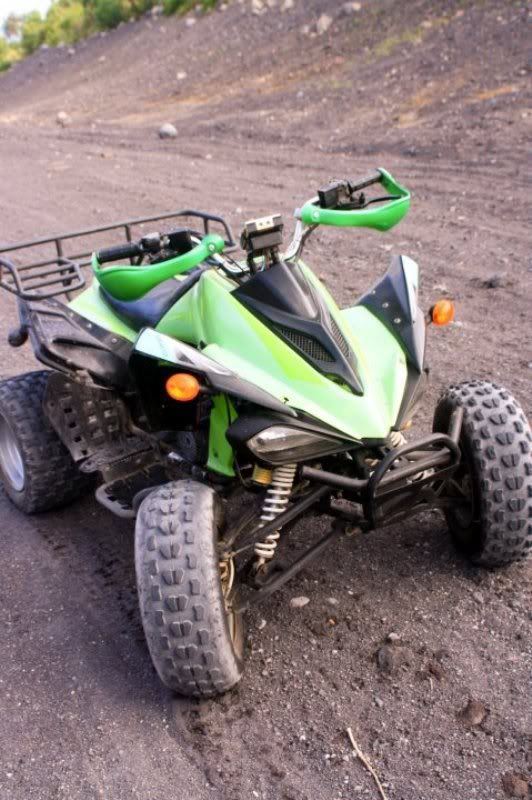 The ATV (Left) and our guide (Right)
(
Last part of the Bicol Adventure under the cut!
Collapse
)
And so that concludes our trip to Bicol. Since Adrian (the guy in green) moved back there already, it won't be the last time we'll be going there. :)
...Yet another continuation of the Bicol Adventure
I'm feeling...:

bouncy
last post (Bicol Adventure Part 1)
. :)
2.
Cagsawa Ruins
Do you still remember our history/geography books when we were in grade school? Whenever a picture of Mayon Volcano is shown or drawn, there's always this tower that's included. That's where we were on a bleary Saturday morning. We left my friend's house at the ungodly hour of 4:30am and started the travel to Donsol. Some minutes (or hours?) into the travel, he remembered that we would be passing by Cagsawa, which is why we suddenly veered off course to head to Cagsawa. Lucky that we did coz we were able to see the magnificent Mayon Volcano without a cloud blocking our view.

Cagsawa Ruins with Mayon in the background

(

Mayon and the whalesharks underneath the cutCollapse

)



I'll stop here first as it's getting a bit long. Til the next post! :)
...Continuation of the
Just like the
Bora trip
, I think I'll just break down the vacation by telling you about what we did. :)
Just to give you a little background – We stayed in our friend's house in Pili, a mere 5-minute drive from the Naga Airport. We arrived on a rainy Friday afternoon and left Tuesday morning (hey, we still had to work, as much as we hate to admit it :P).
1.
CamSur Watersports Complex
(
Click to visit their website
)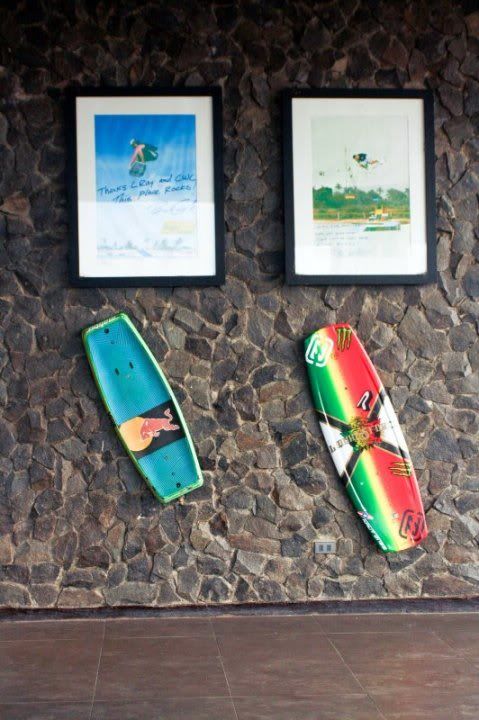 (
More on CWC under the cut
Collapse
)
Other activities in Bicol to follow in the next post... :)
There was a miscommunication somewhere between end of April (when we booked our trip) and the time when we were in Bicol. Truth be told, I was expecting a laid-back trip – you know, where I won't have to exert any huge amount of energy. As it turns out, what happened was the exact opposite. And we realized that there are a LOT of things that we could do in Bicol.