Just like the
Bora trip
, I think I'll just break down the vacation by telling you about what we did. :)
Just to give you a little background – We stayed in our friend's house in Pili, a mere 5-minute drive from the Naga Airport. We arrived on a rainy Friday afternoon and left Tuesday morning (hey, we still had to work, as much as we hate to admit it :P).
1.
CamSur Watersports Complex
(
Click to visit their website
)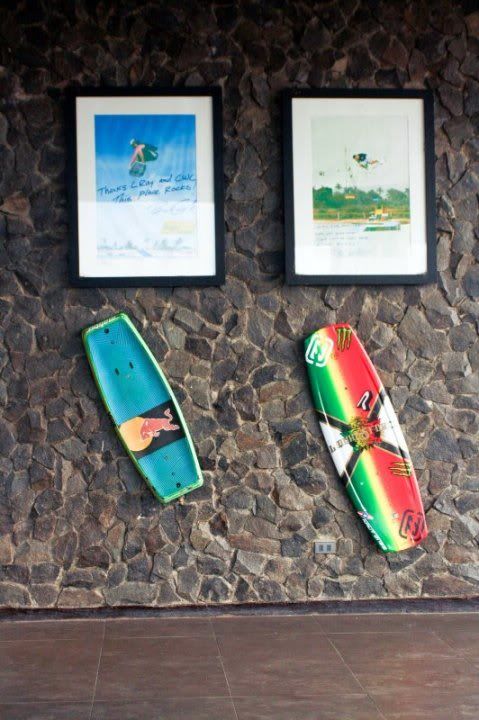 Now, we couldn't possibly go to Naga without going to Camsur Watersports Complex (CWC), right? After all, CWC had been making waves to locals and tourists alike. :P Being the eager beavers that we are, it was the first place we visited after putting our bags down in my friend's house. We also went back two more times during our stay in Bicol :)
Of course, when you say CWC, wakeboarding is the first thing that comes into mind. Before I go into that, let me first go through the other other attraction at the place – Lago del Rey.
To put it simply, Lago del Rey = watersports entertainment. Think 'mountain' climbing, slide, obstacle course, trampoline, volleyball and polo. Have it in mind? Now put them on the water so that you'll have its "aqua" version. That's what you can do in Lago del Rey. :D And to get from one activity to another, you have to swim. It sounds easy, but it's not – an hour in the lake is just enough for us. :)

Layout of the lake with the inflatables



Getting ready for our first swim of the trip. :P
The 'mountain' climbing is the inflatable "Iceberg" and there are two versions of it in the lake, a smaller one and, well, the huge daunting one. We just call it Iceberg 1 and 2. Haha. Once you get to the top, you slide down its side and back to the water. The climb's not that hard, it's just a matter of knowing where to put your hands and feet next – but it is a bit painful as your feet (or your toes) can get squished. :D And then there's the matter of
getting on
the iceberg. It's hard to carry your weight out of the water and onto that cursed inflatable. Haha! Anyway, here are some pictures with short descriptions...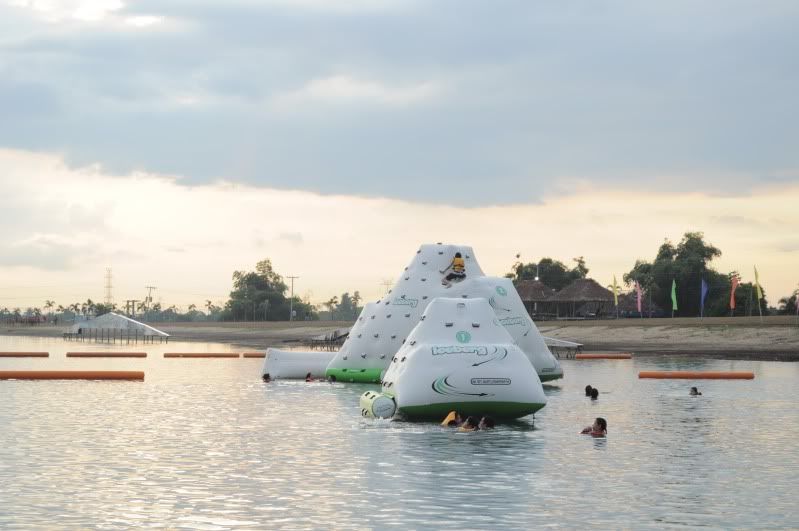 Small and big iceberg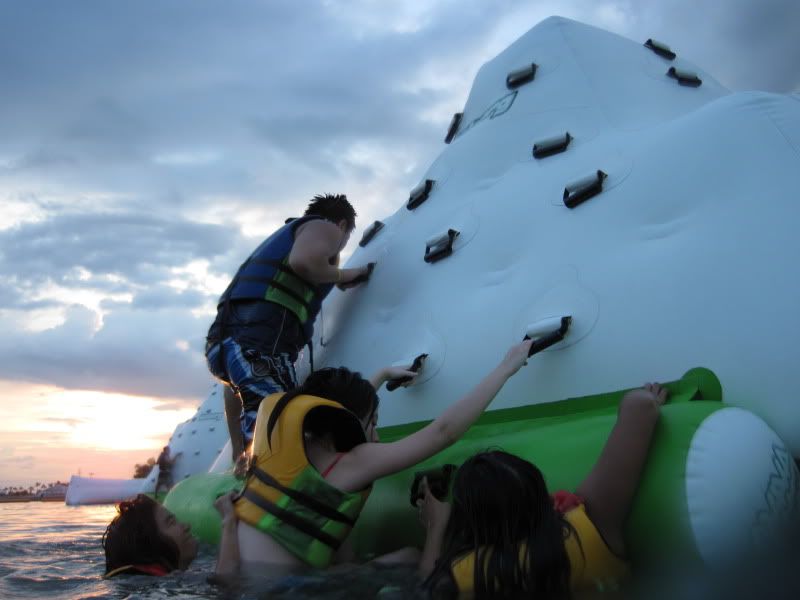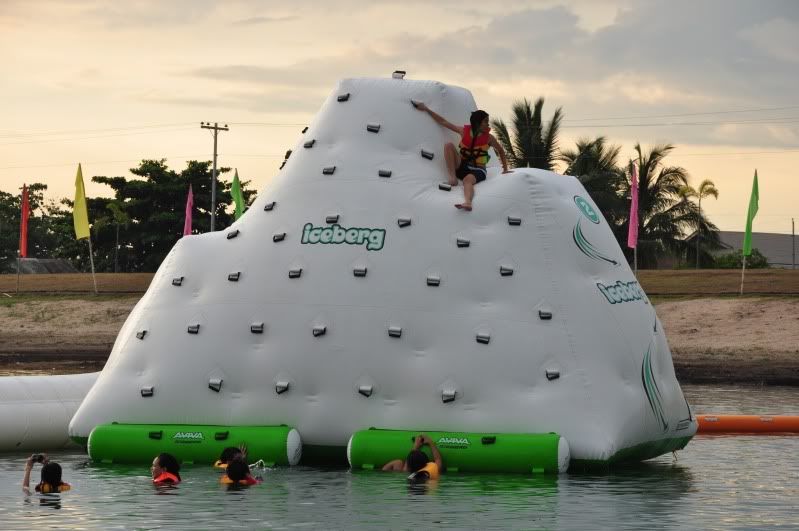 A closer look.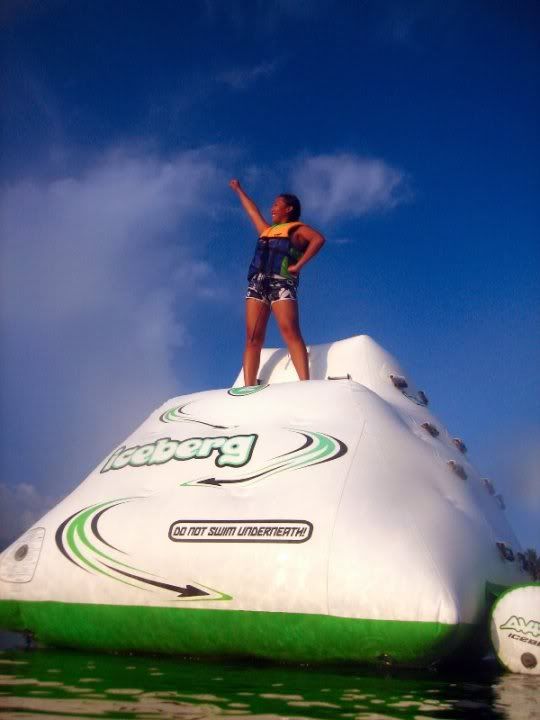 Conquered! :P
As I mentioned, there's also the inflatable obstacle course. And as with the Iceberg (and actually for all the activities in the area), the first challenge is getting ourselves up.
Wa-poise na kung wa-poise
. :D It's just a small course, but the water really makes it harder – there was one time that after I got over a hump, I slid straight into the water. Ouch. :P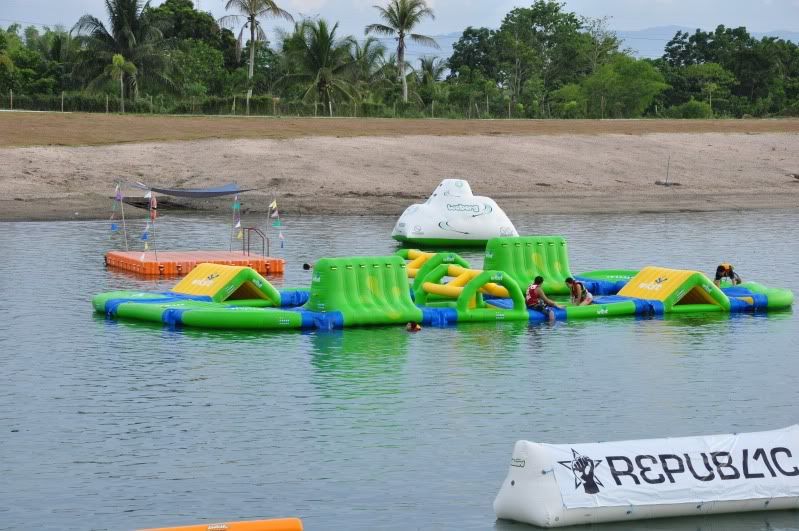 Looks deceivingly easy.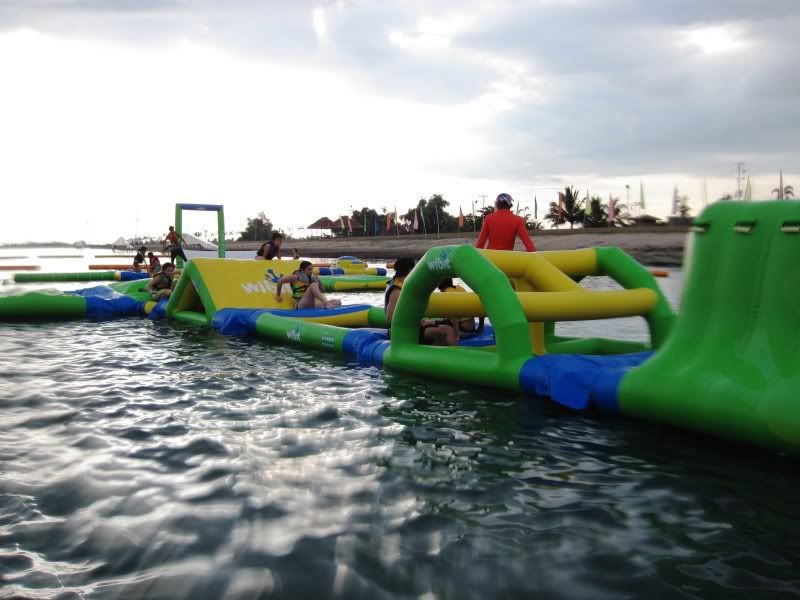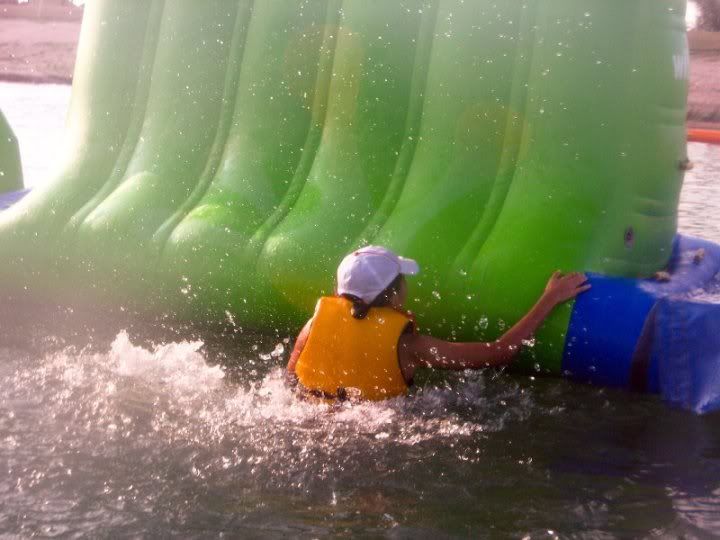 Ah, the trampoline. Is there really anything more to say?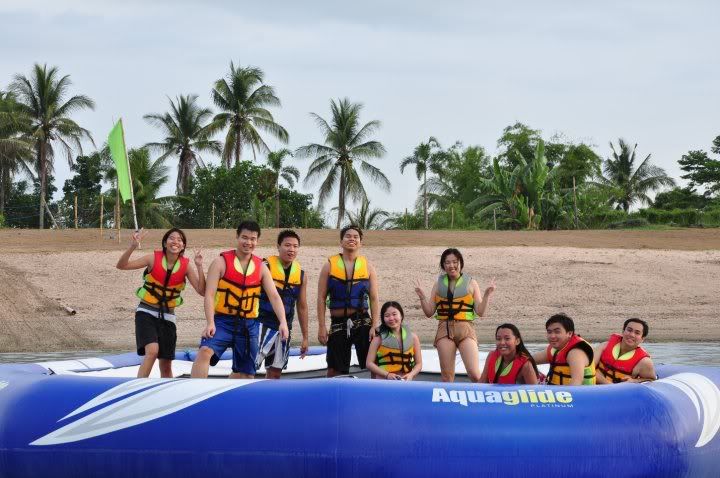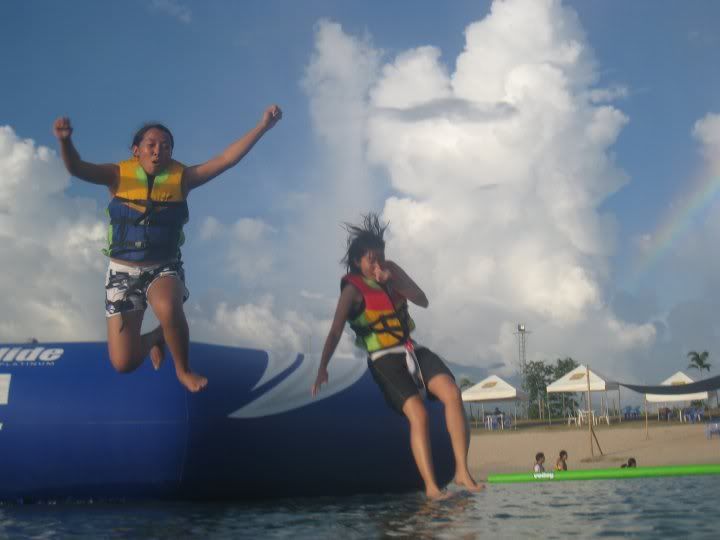 (L) All of us on the trampoline. (R) Jumping off the trampoline
Though there is volleyball and water polo, we chose not to play them (we also didn't try kayaking and paddle-surfing) – we were enjoying the other activities far too much! :P Plus, we only signed up for an hour in the lake (P120/hour) so we could rest for a bit before trying the much-awaited wakeboard.
And now, wakeboarding. Before anything else, we had to fill out a waiver form – I forgot what's written exactly in it but I'm sure it goes something like CWC not being liable to any injury, etc. Apparently, since we were beginners, we can only try kneeboarding first. Rental was at P215/hour (in the evening) and P165/hour during the day. The fee includes the rental of the helmet and vest – not bad, eh? We also paid P500 deposit, which would be returned after we also return the helmet and vest.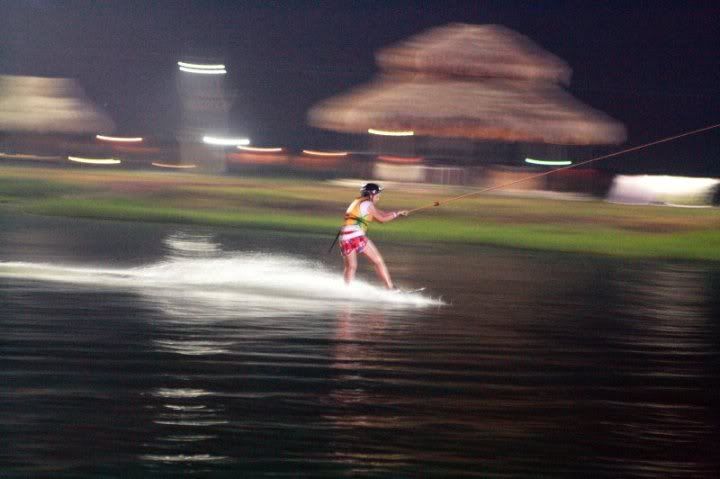 I wish I could say this is me, but I can't. This isn't any of us. But, someday, I promise, I will be able to do that. Confident! :P
Like in Lago de Oro, we only signed up for an hour – and let me tell you, if it's also your first time, an hour is just enough. My other friends didn't even make full use of the hour since their forearms couldn't take it anymore.
After getting our gears, we went to the side of the line to get instructions on how to kneeboard properly and how to move left and right to avoid the obstacles in our path. Take note that obstacles Include ramps, buoys…and other swimmers who fell into the water. :P We also had to go in between buoys at the curves in order to continue the route – if not, well, the cable would slacken and we have no choice but to fall into the water, swim up to the shore and walk back to the starting line.
I was able to complete the round – 2 rounds is my maximum for every turn – along couple of my friends. The others weren't as lucky, though, as a wipeout (known as my friends :P) can be seen less than halfway into the route. Hehe. Actually, the term wipeout is a bit strong – it's really just a matter of falling into the water. Usually what happens is when the cable slacks off and then suddenly gives a jolt, the person is surprised and lets go of the handle, which is when s/he topples over. It's really unglamorous, the way we fall into the water. Since the board is strapped securely across our legs (with us kneeling down), we go with the board when it falls sideways and under. :)
It was a fun experience – the kneeboarding and horsing around in Lago del Rey – but needless to say, when we took showers and dressed up, we could hardly lift up our arms/bend down to remove our bathing suits, wash, and wear our clothes. :D
Not much pictures of this as we were all in line or on the lake – and wearing a vest, a helmet, and holding on tightly to the cable handle doesn't really give us much room to do any other stuff :P
Oh, we also tried dining at the CWC Restau, it's where we tried the famous laing pizza. :D Food was ok (carbo-loading!) but the service was…well, it could be better considering the place is a tourist attraction. The whole of CWC also has wi-fi, btw, which was how we were able to post status updates and mobile uploads in our respective FB accounts. :P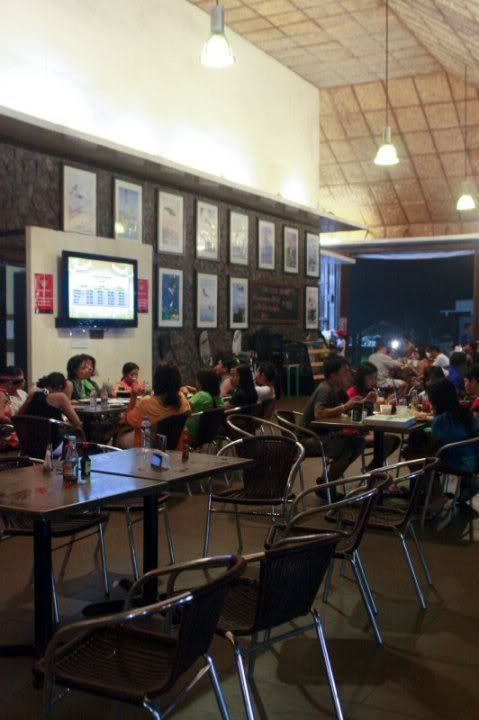 Other activities in Bicol to follow in the next post... :)
There was a miscommunication somewhere between end of April (when we booked our trip) and the time when we were in Bicol. Truth be told, I was expecting a laid-back trip – you know, where I won't have to exert any huge amount of energy. As it turns out, what happened was the exact opposite. And we realized that there are a LOT of things that we could do in Bicol.