Parts One
and
Two
. This one's a bit long but I don't want to have a Part 4 anymore so here goes. :)
4.
ATV ride
Now this is something I'm really proud of (along with the next item). Of all the people I know who've gone to Bicol in the recent months, I've only heard them yapping about going to CWC and, of course, seeing Mayon. But not once have I heard anyone say, "
Heyy, you should try the ATV ride!
" Haha :D
I know we tried ATV in Bora (
see this post
), but
that
doesn't hold anything to
this
. Really. We met up with the ATV operator at the foot of Ligñon Hill and we followed them to where the ATVs are (don't ask me where exactly, because at that point in time, I've become so disoriented of where we are, haha :P). Unlike the ones in Bora, each ATV was to be shared by a pair. Since there were ten of us, my friend's mom reserved 5 ATVs.

Open field where we practiced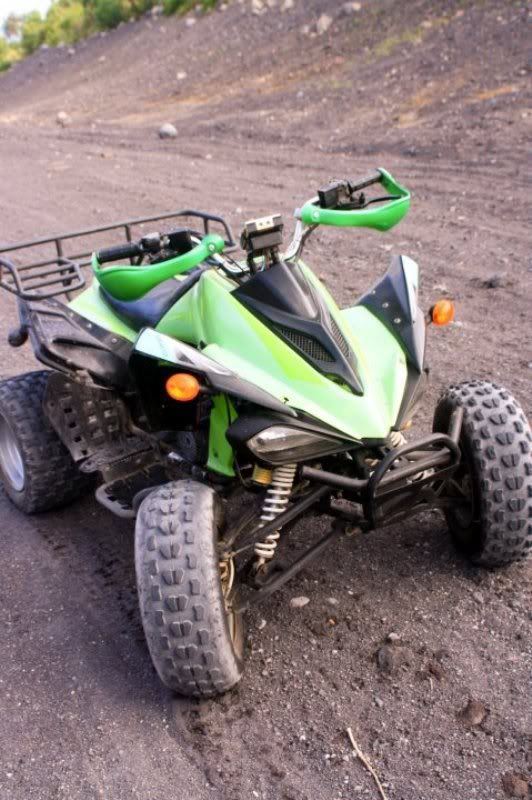 The ATV (Left) and our guide (Right)
And again unlike the ones in Bora, this ride took longer than an hour AND it was really off-road. We started off with practicing how to maneuver the ATV in an open field. After a few minutes, we started our trek – passing through streams, muddy areas, rocky areas, all of it. Also contributing our longer time was because some got stuck in the mud and not just once!) and our guide had to go back to help them out. The ride was exhausting since the ATV was bigger and heavier – our arms got an instant workout. :P When we finally made it to our destination, we were just filthy. Haha, okay, that's an exaggeration but we were really dirty, dusty and muddy. We should've have taken a bath after that our swim with the whalesharks. :P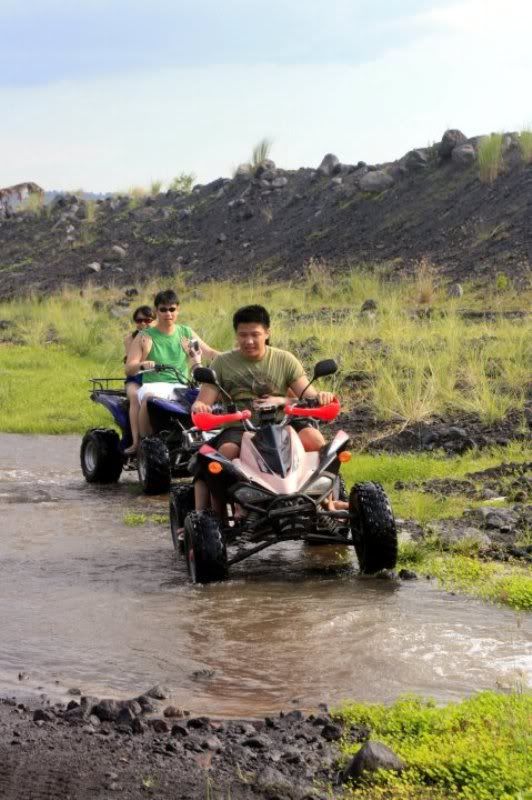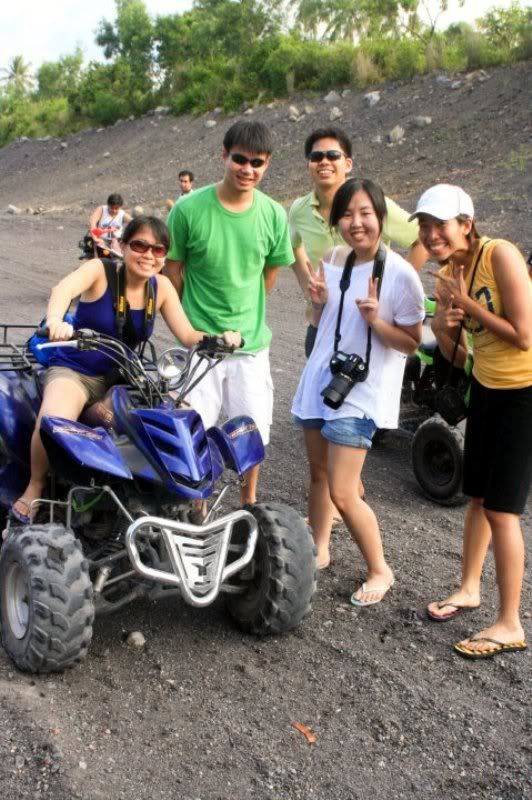 Posing for the camera during one of our rest stops (aka the time when our other companions had to be helped out...)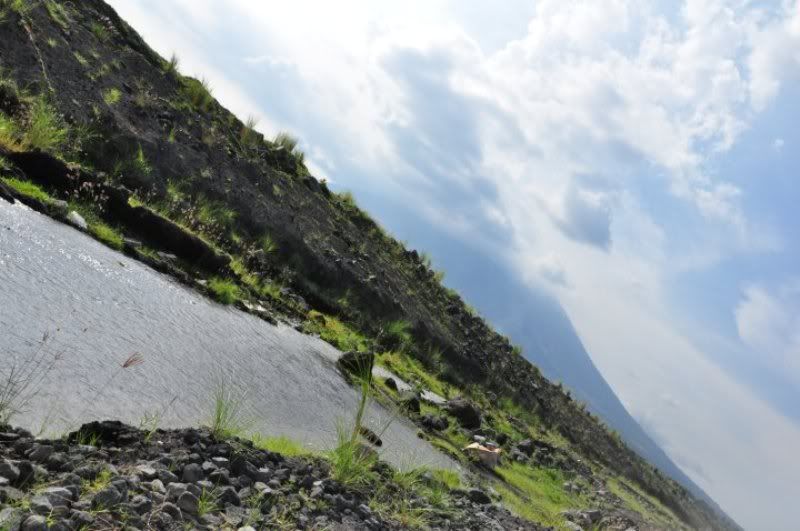 A part of our trail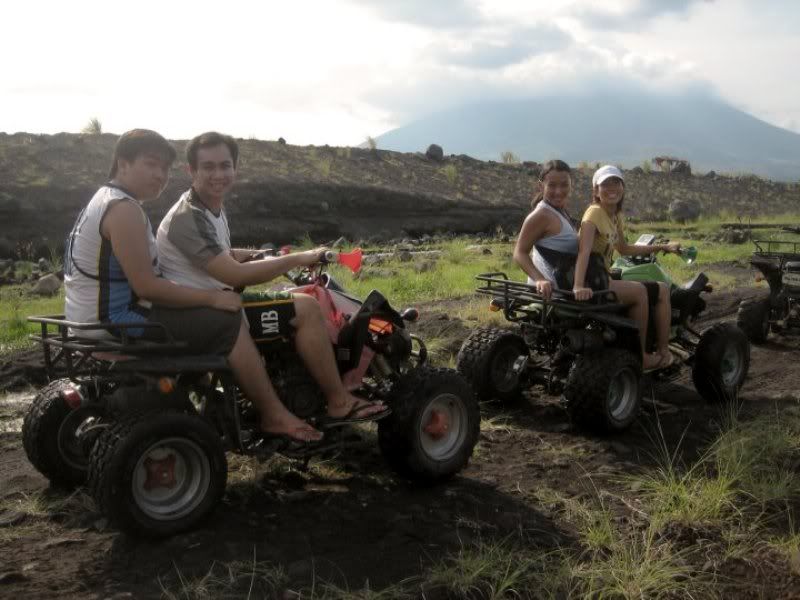 With Mayon hiding behind the clouds
And so we reach our destination, which brings me to our next activity...
5.
The Lava Rock Climb
Some time during our ATV ride, we stopped to rest for a bit (and as I mentioned, to wait for the others). We then asked our guides how far we still have to travel. They then pointed to a far off distance, gesturing to the black area near the foot of Mayon (Well, it looked near the foot of Mayon, anyway, from the place we were standing in). Apparently, that black area is made up of lava rocks – and that was the destination of our ATV ride.
After taking a few minutes to catch our breaths, we started the climb. It wasn't as hard as it looked – we just weren't prepared for it. Though there is no exact "trail" (read: steps or railings) to lead the way, there were rocks with arrows pointing to the right direction. Of course, we still had to be wary of stepping or holding on to a rock that might be a little loose.
When we finally got to the flat surface... it really is flat! Haha. As in flat as a helipad – and that's what we found up there. I can't remember if it's the local government who made that, and for what purpose. Needless to say, it must've taken some time because no equipment can get up there and flatten that – meaning it was crafted by old-fashioned laborers. It's so flat that we can take a picture like this...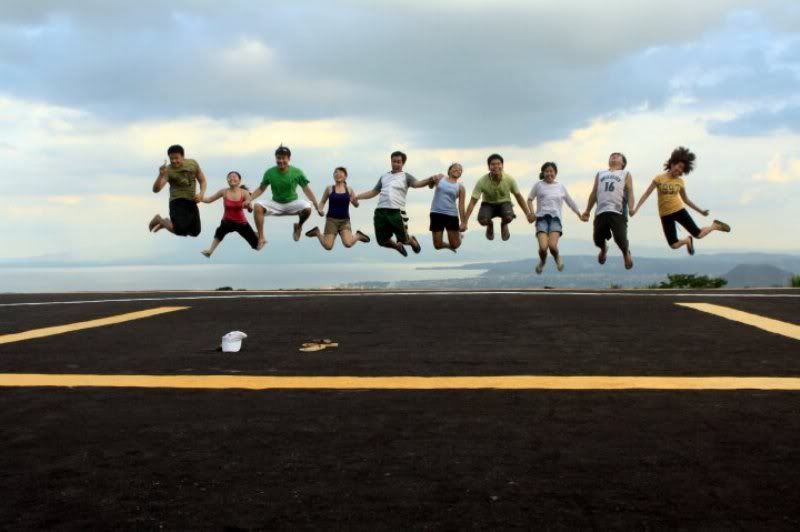 ...without worrying that we might fall off. :P I think jumping shots has become a tradition for tourists.
Anyway, there's nothing else to do up there but to savor the view... and of course, to take some pictures. So that's what we did. :)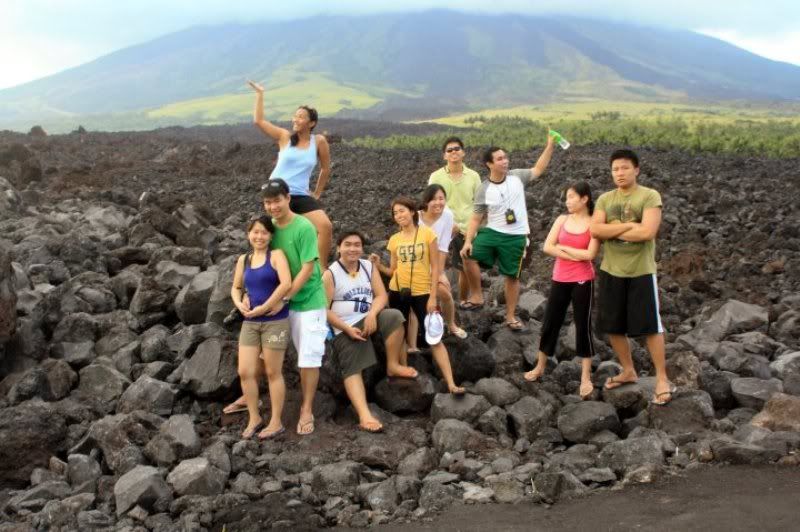 Group shot. Someone said, Kanya-kanyang telenovela, when another asked what pose to do. Err... I don't know how it ended up like this :P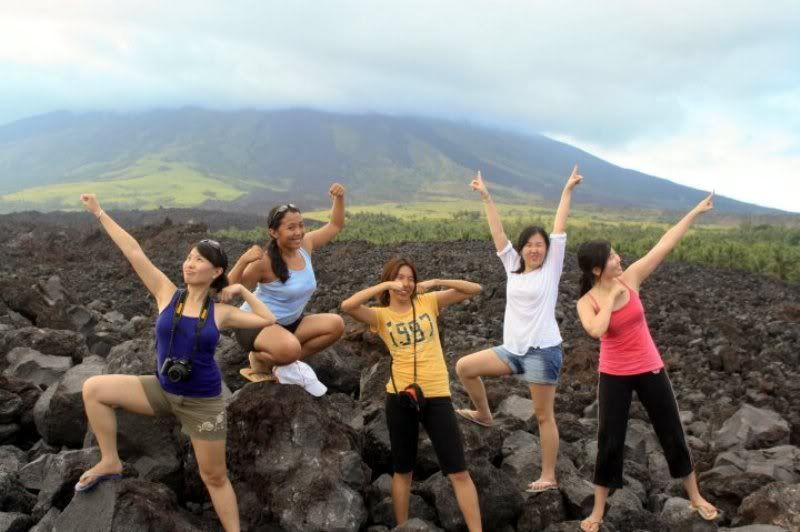 Girls. Yes, we're macho :P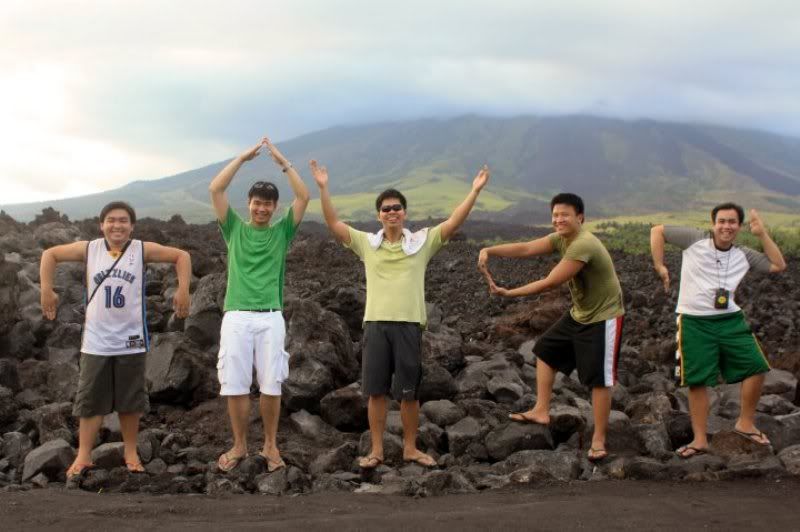 And the boys... they just wanted to spell something out. Can you decipher it? It's MAYON. Haha :D
After we got our fill of taking pictures, it was time to go down. Our guides told us that there are two ways of going down. One is climbing down (see picture below) and another is using the zipline. But since there were only two harnesses and it was a manual one (after each rider, someone would have to run back up to the top to give the harness to the next rider), we decided to climb down (save for the two people who wanted to ride the zipline).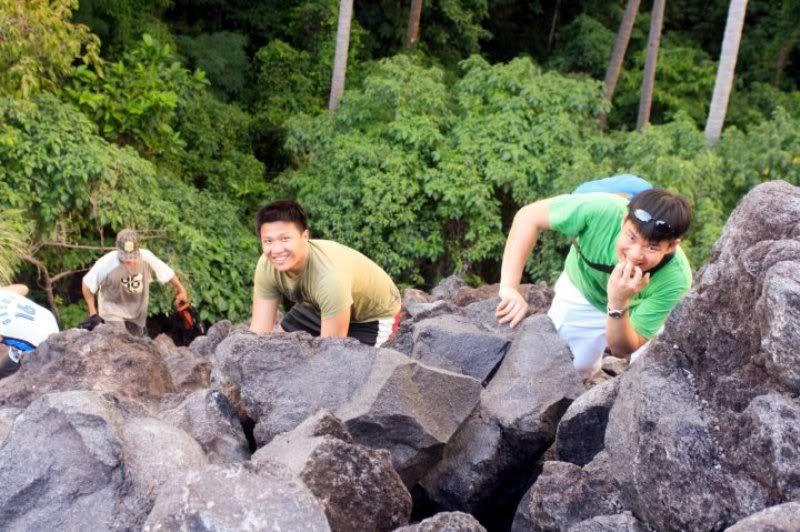 Climbing down
If climbing up was scary, climbing down was scarier. The rocks were steeper and looser. Our guides said not to worry – since the time the lava rocks were there, only one person had fallen off, and still, that person survived. Yes,
manong
, that's really comforting to know. Haha. Anyway, we made it down without any hitch, slowly but surely. And when we got down, we savored the fresh buko juice waiting for us. We didn't have much time to rest as we still had to go back to our starting point. This time, though, we didn't pass through the off-road trail and we made it back to the place where the ATVs were kept in no time.
6.
Ligñon Hill
For our destination, we went back to where we first met the ATV operator. Only this time, we went straight up, at least, up until the place where the van can go. From there, we walked the I-don't-know-how-many kilometers going to the top.
Given everything that we've done the whole day, it was no surprise that we were huffing and puffing our way to the top. The only thing that kept us going was the thought of Chow King's Halo-halo, which was prominently featured in every lamp post that we passed (see picture above). Finally, we made it...
We went inside, found Chow King...and got disappointed. They no longer had Halo-halos! Grrr! Haha. We settled instead for ice cold soft drinks and plopped down on the benches. Since it was already dark, we opted not to go for the ziplines – that would have to wait until the next time we're there. After maybe 20-30 minutes, our hungry stomachs got the best of us. We started our way down to the van and proceeded to look for our choice dinner place – Small Talk Café.
7.
Small Talk Café
Honestly, we didn't know anything about the place. But a quick Google search when we were still in Manila told us that this was the best place to eat in Legazpi. And so there we were. It was just a small house converted to a restaurant. No pictures though, as we were too busy trying to clean up ourselves in their small comfort room, and eating our hearts out.
Being first timers, we tried their best sellers – the pastas, laing, bicol express, etc. And yes, the review about the place were right, it was delicious, and cheap! For everything that we ordered (plus bottomless drinks), the bill totaled to a whopping P2000. :D
Finally, we went back to the van, about to go back to my friend's house. Within minutes, we're all fast asleep. :P
(by the way, items #2-7? We did it all in one day! Whew.)
8.
City Tour
Since two of our friends were leaving a day earlier than all of us, we decided to do some pasalubong-shopping first, going around the city and ending up in SM Naga, where we tried the very yummy halo-halo.
Besides SM Naga, we also visited a couple of churches – The Peñafrancia Basilica Minore and the, ummm... I'm so sorry, I forgot the name! :-c I have an excuse though – we didn't go down the 2nd church. Since it was a Sunday, there was a mass and we didn't want to disturb it. We didn't bother going down and taking pictures.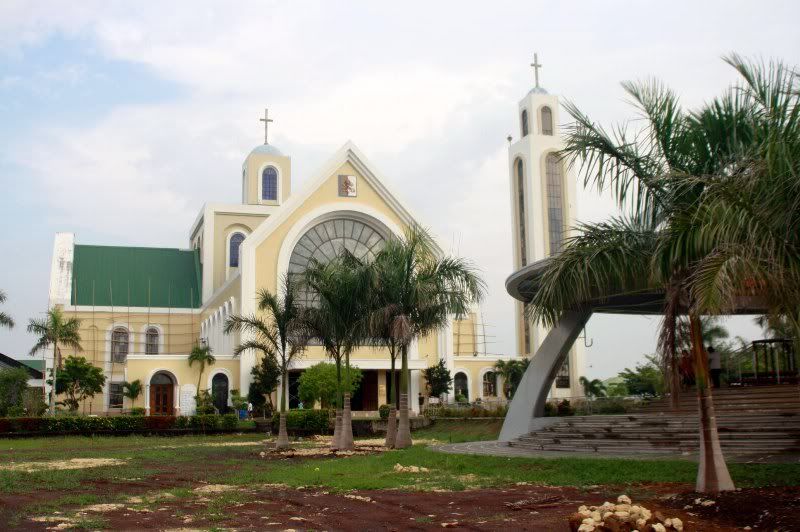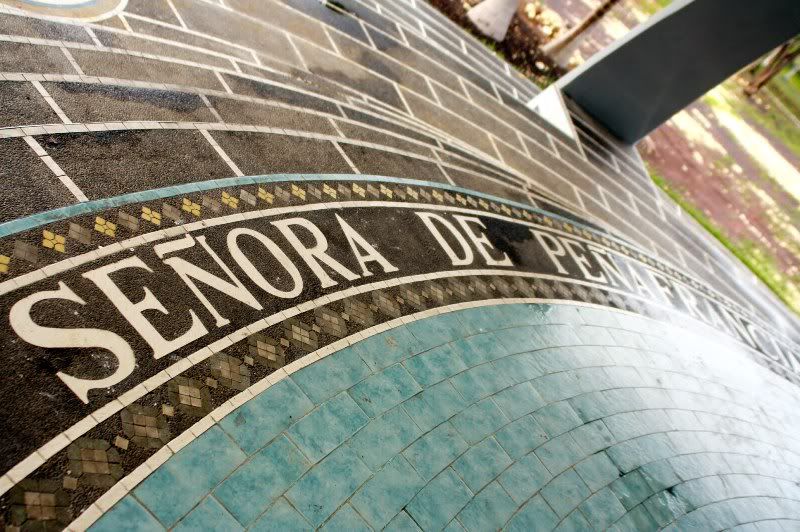 At the Basilica
We did go down, however, in Ateneo de Naga University, which we visited out of curiosity. :D The Ateneans wasn't able to resist taking pictures...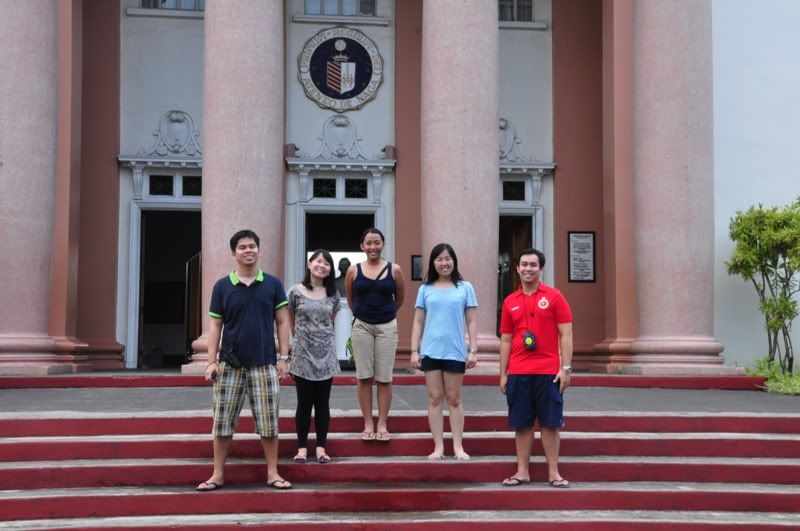 After our "tour" we had dinner in CWC and went for coffee in their version of "Fort Strip" :P
9.
Atulayan Island

Calm sea
To get to this island, we had to take a 20-30 minute boat ride from the small port, which, in turn is around 45 minutes away from my friend's house. There's nothing special about the beach – only that it's unspoiled. There are no commercial establishments – it's just the sand and sea in its pure form. :D Oh and rocks. :P We just enjoyed swimming around and of course, doing a photoshoot for two people that we're pushing towards each other :P Haha.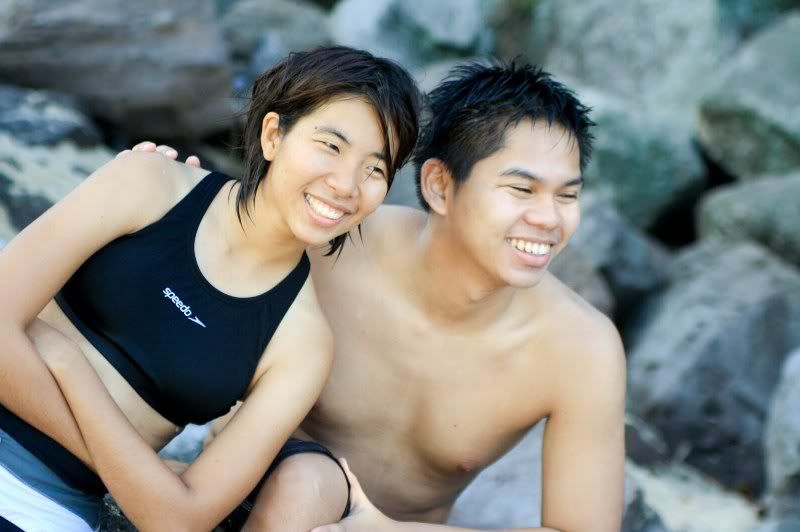 We're happier that they rode along with all our jokes...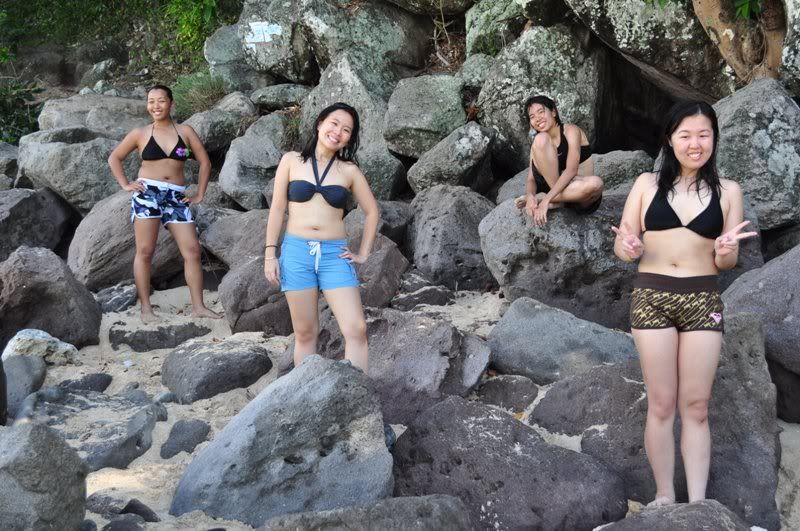 These rocks are the perfect setting to photoshoots...
We stayed there until lunch (we ate the
baon
that Auntie gave us – thank you!) since we wanted to go to CWC for one last time. Well, the plan was to go straight to CWC after but due to a misstep of one of our friends, we had to go to the hospital first. :(
Just like our first night in Naga, we had dinner in the house of our friend – my friend's mom cooked a feast for us. I just looove the laing that she made. Actually, I loved everything. Fortunately for us, she made some extra and we were able to take some laing and bicol express home. :D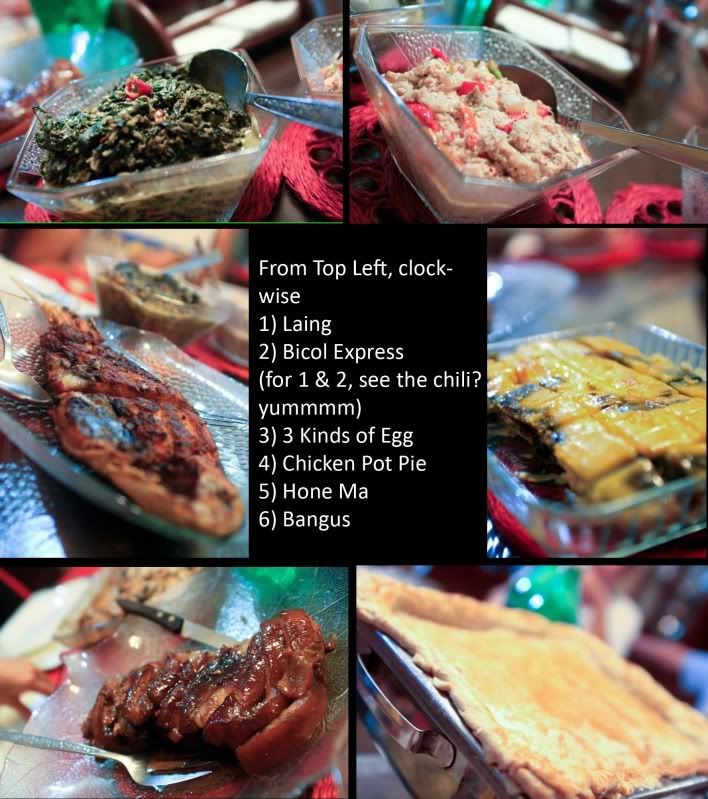 Yummy food!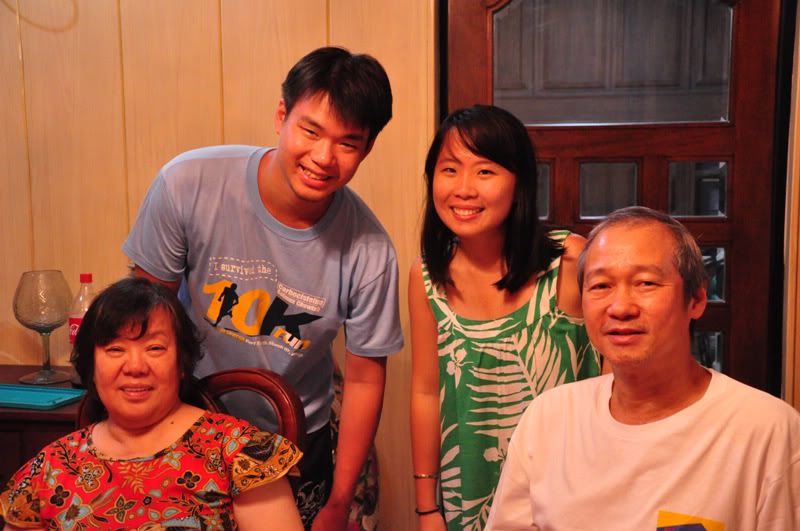 A big thank you to our gracious hosts! :)
And so that concludes our trip to Bicol. Since Adrian (the guy in green) moved back there already, it won't be the last time we'll be going there. :)
...Yet another continuation of the Bicol Adventure
I'm feeling...:

bouncy