Currently looking for a new theme. :)
pamahiin
(superstitious beliefs) that one shouldn't go straight to his/her home after going to a wake, my friends and I tried this new Froyo place in Tomas Morato, Frutti Froyo.
While I'm not really a fan of froyos (except for Red Mango), I decided to give this place a try since I can't think of any other place to go to - especially when I saw the very colorful facade of the place :) Ironically, I wasn't able to take a picture of it, just check it out at its
FB page
.
They told me that they also had a branch in Katipunan but since I'm no longer a student and I haven't been to Katipunan for the longest time, I really wouldn't know. The concept of the place is "Make your own cup of Froyo," which is interesting. It'll be your own fault if your combos didn't work, and the price of your froyo will depend on how well you can control yourself :P Though it's the first time I've encountered the concept in the froyo industry, it's not the first as there's another company (whose name escapes me right now) with the same concept in GB.
Before I forget, each ounce costs P18. :)
Anyway, moving on. Upon entering the Tomas Morato branch, cups are ready to be grabbed at the left side. The dispensers are also lined up after the cups, and my, there were a lot of choices - Vanilla + Chocolate, Kiwi, Taro, Green Tea and the plain ones. You can combine all of them, if you want :P

(L) Dispenser; (R) My Choco + Vanilla Froyo
As you can see from the picture above, I went with a Choco-Vanilla froyo (middle lever). Now that I've chosen my flavor, next set of choices would be for the toppings.

Sprinkles and more
See those canisters? Take that, double it and that's how many options there are. The tricky part is choosing which would go well with my froyo. To be safe, I just went with cornflakes, mini choco balls and rice crispies. :P
Of course, what's a froyo without the fruit toppings? I went with my favorite - mangoes! :)

Hey, it's called Frutti Froyo, after all :)
To top it all off, you can choose from caramel, white and dark chocolate syrup. Without thinking twice, I got the dark chocolate syrup. Hehe. Yes, I had a chocolate overload. :P

(L) Syrup; (R) Weigh In
Finally, it was time to head to the counter (right picture). My cup weighed a total of 7.3oz = P131.40. For the amount of toppings I put in it,
pwede na rin
. :)
Surprisingly, the froyo didn't have a hint of sourness in it. The chocolate and vanilla tasted exactly that - chocolate and vanilla. And I tried the Green Tea flavored froyo of my friends - it really tasted like tea! :) The fruits were also fresh. All, it was worth the money we paid for it. The layout of the store was also nice, colorful and cozy, and it looked spacious. I also love the chairs that they chose - lightweight and the design was really cute. The place also had an al fresco area.
As I mentioned, the place will test your self-control. There was this one guy who arrived after we did and his cup totaled to P350+! I think he got a lot of froyo, plus the fruit topping he chose - lychee - was heavy. And the fact that he put a mound of it in his cup :P
(Clicking above picture will bring you to the website - which is still under construction, obviously from the pic)
Tomas Morato (corner Scout Madrinan)
Since there's this
I'm feeling...:

bouncy
Even though I had no plans of voting early in the morning, I still woke up at early - thanks to me forgetting to turn off my alarm :P Giving up on trying to sleep again, I logged on to Facebook and saw numerous updates from friends saying that they're waiting for their turn to vote and have been in line for
n
hours.
I had a plan for the day and it worked - to go out to vote during lunch or a little after lunch. Apparently, it doesn't matter if it's going to the parlor, going to the grocery and, in this case, going out to vote - the intense heat of the midday sun drew people back into the comfort of their own homes. Or maybe my precinct is just really lucky since the same thing happened to me during the last national elections.
Here's my 2010 election day experience :)
12:39pm. Left the condo and started the drive going to Las Pinas. Roads were clear. Yay.
(
Picture story
Collapse
)
Posted via LiveJournal.app.
Finally, the day arrived. May 10, 2010 - Election day. (Late post, I know the election results will be out really soon)
Through Google searches, we chanced upon the Phillip's Sanctuary website. What sold us to the place was the fact that it already had teambuilding facilities, plus the rate was within our budget.
From the website:
Tucked in the mountains of Antipolo, is Phillip's Sanctuary, a 13 hectare property owned by the Pestano family. It's a haven that offers an escape from the confines of city life. Truly a labor of love, Pepe and Nene Pestano created this eco-sanctuary in honor of their son, the late Ens. Phillip A. Pestano, PN

Phillip's Sanctuary is home to nature lovers, and of adventure sports enthusiasts such as bikers, hikers, campers, mountaineers, and many more.
My friend and I went to do an ocular during one of our "site days." We're not familiar with the area but luckily, the lone map that we held got us through :D The first thing that came to mind when we saw the place was the phrase "One with Nature." In fact, this is what we wrote in the memo given to the members of our group – just to give them an idea on what to expect during our overnight stay.
The teambuilding was scheduled April 23-24 (Friday to Saturday). Actually, all the activities were scheduled on the 23rd and the 24th was just for walking around. In other words, time
para mag-muni-muni
.Scheduling it that way also gives the group a chance to bond over dinner, drinks and pulutan.
Our group met at the head office at 6am on Friday and we arrived at the Sanctuary at around 730am, just in time for breakfast. After eating, we changed into our "sports attire." We all trooped to the main field where were given a brief history about the place. I'll let the pictures tell the story from here on (with a few descriptions here and there :P).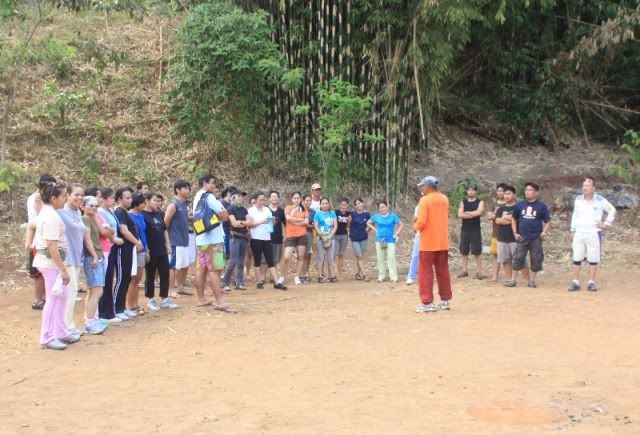 The group during the briefing
We started with a trek around the sanctuary but since I didn't bring my camera, we didn't have any pictures.
(
Pictures under the cut!
Collapse
)
Phillip's Sanctuary
Contact Nos.: 707-8877, 219-1975, 09173547888, 09236487477, 090896163884
Email: info@phillips-sanctuary.com
Website:
http://www.phillips-sanctuary.com
2010 Cluster-for-All-Seasons Teambuilding. It was just an idea that was being thrown around during the early part of the year – back when we had our hands full with the Sales Kickoff and the BOI application. Finally, though, what started out as simple discussions became an approved budget request :P
I'm feeling...:

cheerful
Since I was bored, I finally did what I've been planning to do - to bring out the OC in me and fix all my apps (according to its use, importance and for the games, game type - mind games, action, etc), and download new ones.
Two of my most recent downloads are MoreLomo and Hipstamatic. Below are some sample shots:
MoreLomo
It just has one setting, and can save both original and lomo shots. You also habe a choice whether to save it in high res or not :)
Hipstamatic
This app came with a price (USD 1.99) but I think it's worth it. Packaged with it are 3 lenses, 2 flashes and (I'm not totally sure) 3 films. Pwede na, diba?
I haven't totally tested both but so far, I'm really happy with them - and i'm now more inclined to use my camera phone. :)
Posted via LiveJournal.app.
How to Train Your Dragon
and
Clash of the Titans
.
And yes, it's another back-to-back movie because we weren't able to watch How to Train Your Dragon last week - and since Max knew I was going to
throw a tantrum
be upset if we don't watch it, he offered to watch it, plus Clash of the Titans yesterday. And in Alabang Town Center, to my delight! :P
How were the movies? Well, my answer would vary, depending on which specific movie you're asking. :P
Clash of the Titans
Call me ignorant (or maybe clueless) but I was expecting more of a "Clash" between the "Titans." Haha. :P Anyway, we got a review that it wasn't worth watching in 3D so we didn't. The exact words -
this is not a film that was actually created with 3-D in mind
from
this blog
. It was also a good thing that we didn't watch it in 3D since the cinema showing it got filled up pretty fast. Meanwhile, we still managed to get pretty good seats and for the screening time that we wanted.
Basic storyline - Perseus (Sam Worthington), son of Zeus (Liam Neeson) is after Hades (Ralph Fiennes) because Hades killed his family. And because Hades also threatened to release the Kraken to the city of Argos, Perseus teams up with a few soldiers from said city in the quest to destroy the Kraken and Hades. And to find the way to destroy both (well, technically just the Kraken), they have to fight a lot of other creatures. :P By the way, they're also accompanied by Io (Gemma Arterton), who's somewhat of a guardian to Perseus. (Just to add, I find Gemma Arterton really beautiful - in a simple kind of way)
Anyway, as I told my friend, the movie was "
Okay lang
." Nothing spectacular. Sure, I enjoyed the effects and some of the fights (soldiers against those desert creatures) but wasn't in awe of it. I think this is another case of being overhyped to me, like
Avatar
. The fact that both movies had the same leading actor is just pure coincidence. :P After watching the movie, I think we made the right choice of seeing it in a normal cinema.
Oh the black creature in this one is the Black Pegasus that Zeus gave to Perseus as a gift :)
How to Train Your Dragon
Now this would have been a good movie to see on 3D. Unfortunately for us, the 3D version of it wasn't available in ATC - or in GB, Eastwood or Rockwell. :(
Can I just say that I LOVE Toothless? He's the Night Fury Dragon that Hiccup (son of a Stoick, a Viking leader[?]) took care of, and the one who took care of Hiccup when the time came. And besides, how could I not love this?
From the trailer, you get the main idea of the movie - a Viking boy (who's supposed to hunt and kill dragons) ironically befriends a dragon. Now, as a Viking boy, clumsy Hiccup was almost a disappointment to his dad Stoick, who is the epitome of a Viking, which causes a little strain in their relationship. In the end though, everything turns out well and everybody loves everybody. :P
I just love feel-good movies, and this one is as feel-good as it can get. But I think that parents now have a problem with their kids wanting dragons as pets. Haha :P
Yes, black flying creatures - a dragon named Toothless and a pegasus which I believe had no name. These two mythical creatures had a role in the two movies we saw yesterday -
So here goes a lot of food pictures, and some side comments :P
PS. Looking at the dates of the receipts, I realized that we went on some sort of a binge (make that a carnivorous binge) last February.
Anyway, I think I'll just blame it on our curiosity about some of the places that we haven't tried.
Sige, Karen, palusot ka pa :P
Kebab Factory
February 19, 2010. Fort Bonifacio.
The first time I heard of this place was from my officemates Steph & Adrian. They recommended it so we decided to try it as well. And when they said it was in Burgos Circle in Fort Bonifacio, my mind was going, "
Where
is
Burgos Circle
" Haha.
Thankfully, we didn't have any trouble finding it. It's just near Basilio and it's easy to spot with it's big bright sign. There's no parking in front so you have to park in the nearby building basement - free if you show the receipt.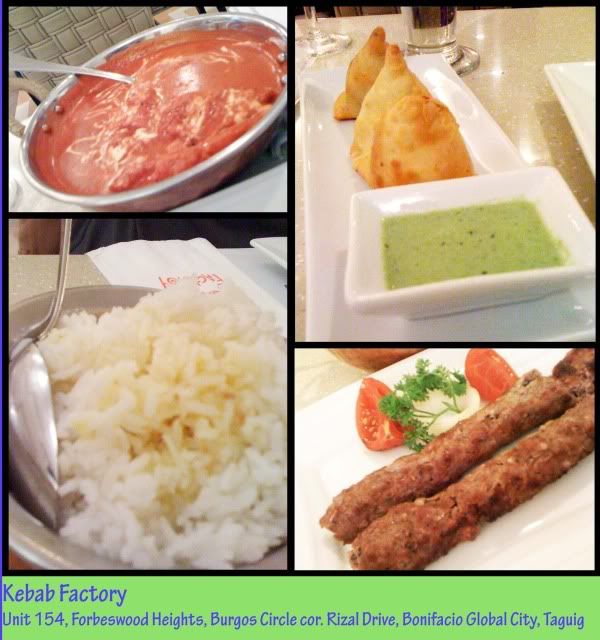 From top-left, counter-clockwise: Chicken Makanwala (P350), Lamb Samosa (P150), Beef Kebab (P225), Butter Rice (P60). We also ordered Garlic Butter Naan (P65) as our appetizer but we forgot to take a picture of it :P
(
Uncle Cheffy, Outback Steakhouse & Stackers under the cut!
Collapse
)
Oh, and of course, what better way to end each meal than to have a cup of coffee or tea? :)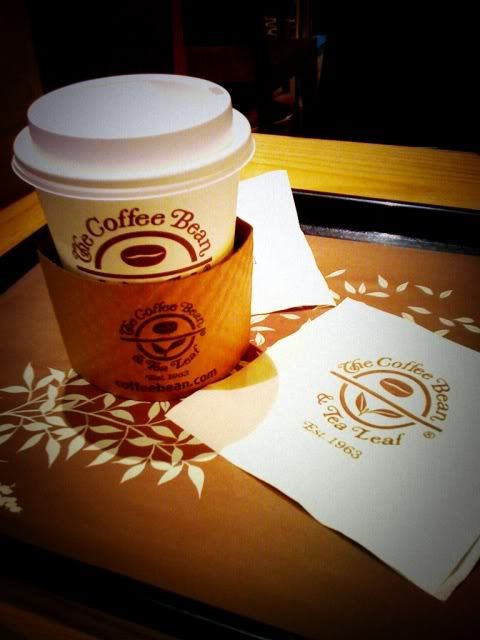 >
We just bought ourselves a new Swirl Card, so I think we'll be regulars of CBTL. :P
Since I'm not doing the Bora food post anymore, I'm replacing it with Manila food. :P Actually, I just have a backlog of pictures of food so I just decided to put it all in one post. That, plus the fact that I found myself having some free time, prompted me to do this instead. :)
Boracay Arrangements
). But I have an excuse - as I was about the post this, the connection effed up and the page didn't show. I hit the back button and the page "expired". Gaaaah. That teaches me another lesson - either to write in Word first or, if writing directly to LJ, copy the entire text first.
Anyway, moving on, this entry will just be about the activities that filled our days in Bora. During my last trip there back in 2006, the days pretty much went like this - beach in the afternoon to early evening, dinner, rest, party at Paraw til the closing, milkshake at Jonah's, sleep and then have lunch. Repeat that a few more days and that was it. :P This time, though, it's different. Instead of just lounging around in the beach (which, of course, we still did), we also planned other things to do.
1. First things first, I just want to get this out of the way -
Showdown Basketball
at D'Mall.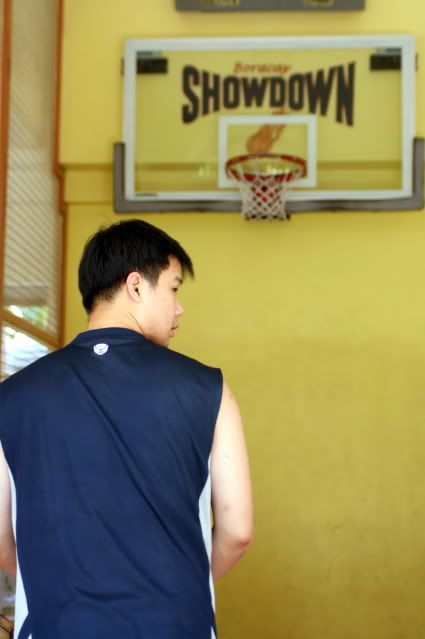 The look of concentration - this can be seen in all of their faces as they take on the challenge. Haha!
The boys just couldn't get enough of this. Every day, they had a go (or two) at this. One game costs P35 and they're given 40 seconds to shoot. I forgot exactly what score they needed to get a cap or a jersey but needless to say, none of them were able to get anything - except for sore arms :P
(
Two, three, four and five under the cut!
Collapse
)
Now, these are just some of the activities that you can do in Bora. Of course, there are a whole lot of other things you can do there - watersports, food tripping and partying. These are just what we did so it's what I'm writing about. :)
Btw, I won't be doing the food post anymore. :(
Yes, I know, you don't have to tell me. It's another late post - almost 2 months since the trip and almost a month since the first post about said trip (
Chris Paul made one - a sort of spoof of paranormal activity (watch it
HERE
. And you know he was out for 25-games.
And now Shaq O'Neal. Granted, he didn't make this one and I wouldn't really say he "stars" in this one but, well, it's hard not to notice him in this music video of Vanilla Twilight by Owl City. :D
I really don't know what the music is about, or if it's a soundtrack of whatever movie, but in any case, Shaq's there and he's (silently) shouting - "
Take me with you!
" LOL.

Photo Courtesy of Yahoo! Sports
I guess it's just another addition to his portfolio. After all, he starred in "
Kazaam
" and "
Steel
". Plus he made those "Shaq vs" reality shows during one offseason. And apparently (after checking
IMDB.com
, he's also in the movie "
When in Rome
," though I don't know how big/small a part he has.
How's that for an all-around guy? :D
LOL.
So what does one injured basketball player do during his time off the court? You know, besides doing therapy or working out at the gym or getting treatment? Why, make a video of course! :P

Image from the Citibank website
Though the basics didn't change - single receipt purchase of P1000 gives you one free movie pass and a single receipt purchase of P5000 gives you two movie passes - there are some pretty major changes in the promo. I guess they noticed the style of the people availing it. :P
1) The P5000 and above transaction movie passes are no longer paired with food & drinks.
2) The movie pass is now worth only P100, as compared to its value last time at P130
3) You can only combine a maximum of two charge slips to get a ticket. So if, for example, I wanted to watch in Greenbelt 3D or Eastwood Ultra 7, I have to shell out P100 or P200, respectively, to purchase a ticket.
4) Splitting a single transaction to several small ones will no longer be accepted. So a P4500 grocery bill can't be split into 3 P1500 receipts to get 3 movie passes.
5) The movie passes should be redeemed within 30 days from date of charge.
(For the full Terms and Conditions of the promo, you may click
HERE
.)
I guess I shouldn't be surprised about the changes. If they're running it for the whole year, I'm sure they want to minimize their costs.
Out of all the items above, I'm only concerned with numbers 3 and 5. Max and I don't really get to go out for a movie a lot so we used to hoard our charge slips so we would either watch back-to-back movies or use a lot of charge slips for the Ultra 7 or 3D cinemas. With that clause, though, we're forced to watch a movie at least once a month (even if there aren't any good movies) just so the charge slip won't go to waste... and we're also forced to shell out some cash for our favorite movie houses. I know, what a problem right? Haha :P
Anyway, I should look at it on a positive angle - we won't miss anymore movies :D And we get around 4 charge slips between the the two of us so it won't really go to waste. :) By the way, for #4? How will they know if we split a transaction into multiple charge slips? For the example I gave - I could use one slip for this week, use another one next week and the last one for the week after that. Haha. My mind's already looking for loopholes in their promo :P
Speaking of movies, I should get ready - we'll be watching Alice in Wonderland later. Can you say Johnny Depp in 3D? Yay! :P
Last Wednesday, I received a text message - Citibank's Reel Deal promo is back and good to go for the whole year! :)